Social networking sites like Twitter, Google + and Facebook are changing SEO in a major way.
As a result SEO experts are scrambling to figure out the way Google will measure Social Authority.  So what is social authority?  Social authority looks at who follows you and how you influence those friends and followers.  Society authority is about measuring who has the power to influence their friends and fans or what they call a "high engagement".
Anyone can go out and buy 100,000 twitter followers or Facebook "likes" but in the end that won't do you any good because those are only fake people or inactive accounts so there will never be that level of engagement that will rank you with a high level of social authority.
One day I seen Kelly Shibari speed about social networking in an online seminar.  I then tweeted "@KellyShibari is very well spoken."  She then tweeted me back and said "@MissKelliXXX Aww – I'm just a #nerd lol ;)"
That's a single level of engagement between one of my followers and me.
"Engagement' isn't about something mentioning you on twitter.  People often think that for some reason.  But the truth is, it's about you saying something, anything … and then someone responding.  That's a social engagement.  The more people that respond to that single thing you said, the higher your level of engagement.
The more you are able to engage your users, the higher you social authority is.
If you want to see some crazy high social authority, let me introduce you to porn star Vicky Vette (@VickyVette).  On Valentine's day Vicyy Vette tweeted a photo.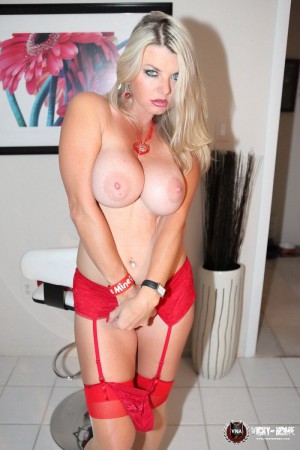 259 people retweeted the photo, 152 people tagged it as her favorite and two people replied.
This kind of high engagement with her more than 435,000 followers isn't unusual.  This is how you know Vicky Vette's followers are real.  In terms of Social Authority, someone like Vicky Vette is off the charts.
Kim Kardashian is known as a social media darling.  On Valentine's day she too tweeted a picture.  She said how she loved a Chanel branded Leggo clutch.   Kim Kardashian has over 17 million followers.  302 people retweeted it, 278 favorited it and 13 people commented.
Despite the fact that Kim Kardashian has an astronomically larger number of followers than Vicky Vette, their engagement is pretty in line with each other.
Something else I found interesting was that Vicky Vette has a Klout score of 83 and Kim Kardashian is just a few points higher, with a Klout score of 89.  While "Klout" and "Social Authority" don't necessarily go hand in hand, it still goes to show you that in the end the total number of followers you have, doesn't mean as much as how well you can engage them.