While Facebook remains king when it comes to monthly active users, today's post is on Twitter and Instagram.
They are both micro-blogging platforms, but the question is, which one is most popular?
Twitter has 310 million active users while Instagram boasts 800 million.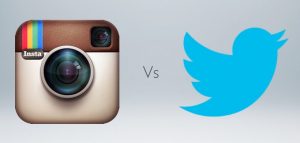 While on the surface that may seem that you want to put all your focus on Instagram because it's more than twice as popular but that would be very short-sighted.
If popularity was all that mattered then you should just focus all of your attention on Facebook with it's over 2 billion active users. But as a porn star, you already know Facebook isn't porn friendly, so why bother?
I'm not saying don't bother with Instagram but what I am saying is, don't forget about your Twitter account either.
Twitter has always been a good way for fans to connect with their favorite performer.
But even more than that, Twitter is a great way to promote your OnlyFans account, which to date
If you aren't using OnlyFans by now you are crazy. Porn stars are making money hand over first with OnlyFans. It makes every single porn star I have spoken to far more than they have ever made with their websites.
The secret to Twitter success is being active. You need to tweet at least 5 times a day. The more often you tweet, the more followers you will get and more importantly, the more chance you have that some of those new followers will join your OnlyFans page.
Another reason to consider not ditching your twitter account is that producers and directors look at a porn star's Twitter account when considering who they want to work with.
You'd be surprised how many girls get passed over for a booking because their twitter account wasn't active.
The lesson here is tweet and tweet often. Even if it's just to say good morning or to talk about what you want to wear.