So you want to start your own porn blog but you don't know where to start?  Well then my friend you have come to the right place.  This article is going to discuss in detail every step you need to take to start your own website and get this …
ACTUALLY MAKE MONEY FROM IT!
Before we get started though let me be clear about something … I don't pretend to know everything.  What I teach you in just my attempt to share with you some things I've learned in the last 16 years in the industry.  I have no doubt there are other things you can do and that's great if you come up with them.  This really is just meant as a simple template you can follow to start your first porn blog and make a few bucks with it.   Now let's begin!
Before you even begin you need to decide what your site is going to be about.  You need a very specific niche or theme for your site.  Some examples of a good theme would be like blondes with big tits or brunettes with blue eyes or porn stars with natural boobies.  In this case, our sample blog is going to be called red headed hookers.  Your "theme" or "niche" is going to be red headed hookers and this means that you need to head over to godaddy and register your domain name.  Your domain name should include your keywords.  Ideally you would want RedHeadedHookers.com but chances are someone else already owns this domain name so try and find a variation like .info or .net maybe or use dashes like red-headed-hookers.  The idea here is to try and get a domain name that includes your desired keywords or "theme" / "niche".  Red Headed Hookers is just one niche or theme idea.  Your blog should be something that you like.  Some other examples could be like blonde lesbians or hookers in heals or porn stars with natural breasts.
Your keywords for this pretend sample blog (red headed hookes) aren't exactly high volume but that's okay.  By high volume, I mean the number of times per day someone google's the keyword phrase "red headed hookers".   This is your starter blog so don't worry about the low volume of searchers.  Your goal here is to learn from this experience.  You aren't going into this expecting to make $100k a year with this one blog.  This blog should (if done right) make you a few hundred bucks a month.  But you can take what you learned from this blog and make even more with your next blog!
So moving on, now you have your domain name and went on over to webair and signed up for your hosting account.  You logged into your control panel and clicked the install wordpress button (oh yes it is that easy).

Now that you have wordpress installed you have a few plugins that you want to get.  The first two are for security reasons.  There are a lot of wordpress users out there so they make a ton of great plugins but there are also a lot of jack asses out there who will go out of their way to try and hack your site too so that being said, click plugins, then add new and search for wp-firewall and you'll find one called "WordPress Firewall 2", now install it.  Next find one called block bad queries, now install the one called Block Bad Queries (BBQ).  With those two plugins installed and activated you can now search for one called yoast.  When you search plug-ins for yoast you'll see a problem called WordPress SEO by Yoast.  This is the one you want to install.  This program will help you great when it comes to SEO for your new blog.
CHOSING AN AFFILIATE PROGRAM
So now you have the basics down.  We'll just assume you found a theme you like and now it's time to find some affiliate programs so you can make money.  Since in our sample we are going with the theme of red headed hookers we will want to find affiliate programs.  Since most affiliate programs will have red headed chicks in some way or another, it shouldn't be to hard to find a few you like.  Red Light District should have some, Premium Cash … those are two good ones to start with.  I would say Vivid Cash but really their people are so beyond rude, it's not worth dealing with them  until they learn to have some better manners. 😛
Now before moving on, I'll tell you a little secret ….. while website related affiliate programs are a must, you don't want to overlook a good movie store affiliate program.  Go head on over to Gamelink now and sign up for an account.  People are so busy talking about how movie sales are down, so many many stopped promoting DVD sales all together but that's a big mistake because while it may be true movie sales have dropped, they aren't gone all together and that means you have less competition in this area and it's a great source of extra cash.
Now we are actually going to make our first post with your gamelink affiliate link (because it is easiest to explain).
Let's go on over to the gamelink website (we will assume you've already signed up for their affiliate program and have your affiliate ID.  Now use their search for Audrey Hollander.  Now find a movie that you like, starring her with Audrey on the cover.  I picked the first on that came up which is Audrey Hollander Cock Star.
IMPORTANT NOTE: At the end of the link make sure YOUR affiliate id is listed. See how mine ends with ref=klubeklli? Well in your case klubkelli should be replaced with YOUR gamelink affiliate ID. http://www.gamelink.com/display_product.jhtml?id=343480&ref=klubkelli
Now what do you write about?  Really you could make your first pots about anything.  You can describe the movie.  But since you haven't seen it, then do your best to talk about it.   The more UNIQUE text you can write about this movie, the better.  Write anything you can think of about it.  Sure you can list the given description and cast but don't just leave it at that.  The more you type, the better.  Search engines LOVE TEXT.  So for example purposes, here is what I wrote up for the post. AGAIN THIS IS JUST AN EXAMPLE.
---
Audrey Hollander Cock Star
Over the years Audrey Hollander has starred in many great movies and Audrey Hollander Cock Star is no different.  Audrey Hollander stuffs every hole to the breaking point and beyond with massive cocks in this all out masterpiece of her sexual depravity! She sucks and fucks even more random degenerates than usual!   Audrey Hollander is in every scene and this DVD lasts for almost 2 hours!  Audrey Hollander Cock Star was first released in May of 2010 and directed by Jim Powers.
My loving husband Otto Bauer asked me to write you this thank you note, He was so excited when you called to book me for this movie. He said I would have to stretch my mouth, pussy and asshole further and wider than I ever had before and that I'd need to rock and suck even more random degenerates than usual, but that he was going to be paid handsomely for my efforts. He used most of the money to buy a new camper top for his truck and like 6 cases of beer Otto says that when he traded a motor for a 1972 pickup truck for a bottle of whiskey to my dad in exchange for me. It was one of the best investments of his life. He's very sweet and good to me you guys are awesome. Thank you!  Thank You! -XOXO, Audrey & Otto

Scene 1:  Audrey Hollander with the fuck machine
Scene 2:  Audrey Hollander with Otto Bauer
Scene 3:  Audrey Hollander with Anthony Hardwood
Scene 4:  Audrey Hollander with Rick Masters
I checked and AVN didn't rate this movie which was really to bad.  I'm sure with all the anal sex Audrey does in this movie it would have gotten a great ass rating.
Audrey Hollander is one of my favorite porn stars.  She never fails to please.  There is just nothing she won't do.  While it is true she is best known for her wild and crazy anal but that's not all she does.  Just after this movie was released she was nominated for AVN's Best All-Girl Group Sex Scene for the work she did in the movie Hocus Pocus XXX where she was in a lesbian orgy with Nikki Benz, Eva Angelina, Sunny Leone, Kiara Diane and Madelyn Marie.
---
And after making your post don't forget the yoast part!  Remember every single post you make needs to have a unique title and other relevant requested YOAST information filled out.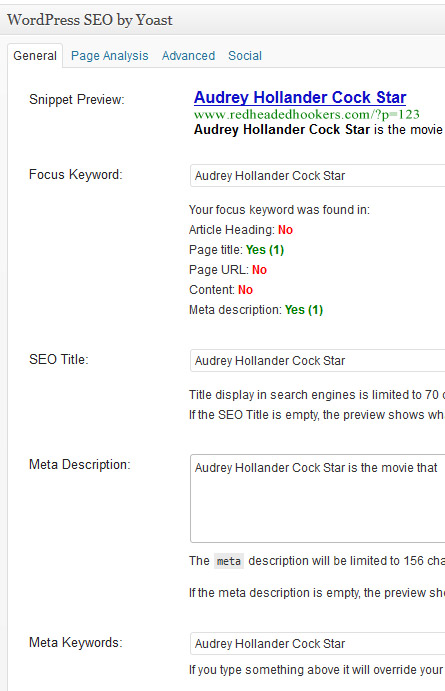 I realize it's not always easy coming up with something to say, especially about a movie you've never seen but it's important to try. The more you can say in your post the more traffic your site will attract from search engines which translates into, the more original things you can think to say in your posts, the more money your blog is going to make.
All to often when people make a porn blog what they do is post a single picture or two from a photo set, use one line to say who is in the pic and then link to the free hosted gallery for that set.  Then those people wonder why their blog isn't doing so well.
It's because search engines don't give a poo about images, they want text text text and more text!  Sure posting pictures is great, but you really have to get in there and describe the image or use the image to talk about something else all together.  Talk about sexual positions or how girls with really big boobs makes your horny baby!  The point is, TALK.  You always want to include as much text as possible for every single post.  While I realize that isn't always easy, if you can do that, you will by far have a far more successful blog than most people.
Every week Gamelink produces a top selling movie list.  Talk about a great resource to make a post about.  You can take the top few movies, list them off as the best selling movies of the week but then talk a little about each one.  The more you have to say about each movie listed and the people who star in that movie, the better.
You don't have to just talk about movies either.  What about porn stars?  You could take a photo of a porn star from a free hosted gallery and post it (then link to the gallery with your affiliate link) and then type up a long post about how you think legs are more attractive than butts.
You could also talk about something interesting like "How many sex partners have you had? According to a survey of adults aged 20 to 59, women have an average of 4 sex partners during their lifetime; men have an average of 7.  This according to the National Center for Health Statistics."  In other words, you make a post talking about sexual partners, insert a few affiliate photos and link each of them to the galleries but you text is about sexual partners.  It's unique and might be an interested read and that makes your blog better quality than just a bunch of stupid spam posts.
How about this … "When did you lose your virginity?  According to a study done by the Kinsey Institute at California State University, the average male loses his virginity at age 16.9; females average slightly older, at 17.4. And a new study shows that genetics may be a factor: inherited traits, such as impulsivity, can make a person more or less willing to have sex at an earlier age."
Again while you are making posts about that subject matter you have inserted relevant photos of hot read head's nude or whatever with a link to that affiliate gallery.   You are letting the story draw in the traffic, while the picture sells them on clicking the link.
IMPORTANT POST TIP
Every post you make must have a unique title and meta description.  If you installed the SEO yoast plugin like we talked about earlier, at the bottom of your post you have the opportunity to fill out the page title and meta description for each and every post.  It's important than you do that FOR EVERY POST!  In our sample post your title could be Audrey Hollander Cock Star (those would be your desired keywords too) and then for the description you would BRIEFLY say what the post is about.  Also be sure and use the build in wordpress TAGS feature.  You might be surprised how much a few good and relevant tags can do for you traffic wise.
]DON'T BE AN AD WHORE
A common mistake that newbie webmasters make is loading their page up with ads.  They seem to go crazy with filling every spot they can in sidebars and footers with banner ads.  This is a huge mistake and will probably cost you far more money than it will ever make you.  A low quality site, bombarding the user with ads won't encourage anyone to click on a damn thing.  Instead look at my blog as an example.  You don't see a bunch of ads no do you?  Of course not!  You should always – always – always have more content than advertisements.  While it's okay to have an ad or two on your site, don't go overboard.  Don't make your site so annoying and trashy that the second people click to arrive on your site they want to leave as fast as they got there.  BUILD A QUALITY SITE.

Don't try and cut corners and do cheap tricks to automate things.  Don't be lazy.  Make the posts yourself.  Be original.  Be unique.  Make your blog something people really want to read and you know what?  You'll actually make money with it.  You don't have to be a great writer.  It's sex.  Talk about sex and all ways and people will care.  People like sex.  So how many different ways and subject matters within the confines of sex can you think of to talk about?
WILL A POST A DAY KEEP THE DOCTOR AWAY?
So how many new posts a day should you make?  Well to be honest that is up to you.  The more posts you make the more often search engines will visit your site to update what you have done.  So while it would be great to have 1 to 5 new posts a day, I also realize that's not always realistic so just do the best you can do.  If you find however you aren't at least doing weekly updates then you aren't putting enough attention to your blog.   Daily updates are best but a post or two a week is acceptable, especially after you've been doing it for awhile and have a good base to fall back on.  The more posts you have, in time they will start to build you more and more and more traffic.
If you found this post helpful please tweet it or share the link on Facebook with others.